Teeth Whitening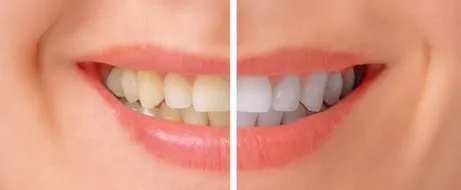 KöR is widely recognized as the world's most effective whitening system—with no need for lights or lasers. KöR offers cost-effective solutions from phenomenal home whitening for average patients, to astonishing treatment of tetracycline cases—and everything in-between. And KöR Whitening is the first company to refrigerate a full line of whitening products from manufacture until they are delivered cold to your dental office. And all KöR Whitening Start-Up Systems come with a 100% money-back satisfaction guarantee.
KöR HOME
This at-home whitening system provides patients with exceptional results at a great price. And you don't have extra chair time or in- office product costs.
KöR MAX
Our most popular whitening system! This versatile and super effective system combines at- home whitening with one in-office visit. The results will leave your patients singing your praise.
KöR ULTRA
For moderately resistant cases such as fluorosis, dark geriatric and other resistant cases. Do not use for tetracycline cases. At-home whitening will continue for at least 3 weeks, and in some cases, 4 weeks.
KöR ULTRA.T
A complete system specially designed to deliver phenomenal results for tetracycline or other exceptionally resistant cases. At-home whitening will continue for at least 6 weeks, and in most cases, 8 weeks.
Contact us now to set up a consultation to get your smile brighter than ever!